As a small child, I loved Valentine's day. I still fondly recall in school that halfway through the day, we'd stop our studies and get out shoeboxes, doilies, glitter, and colored paper and craft our own Valentine's day card boxes. We then would display the boxes on our desk and walk about the classroom, placing a valentine card into every box. Some cards included candy, and often a few mothers would come in bearing cupcakes for the classroom. It was a sugar and crafts filled fiesta of great awesomeness. On a sad side note, few schools do this anymore, what with NCLB, testing, healthy school initiatives...
Once the opposite sex became part of the marvel of Valentine's Day, coincidentally around the time Valentine's Day class parties became simpler, this special day became anything but.
I had my first crush in 4th grade; I was head over heels in child-like love with a boy named Kevin. He was the popular and "hunky" boy of the class, not my usual forte, but he seemed to like me back..something that was unheard of for dorky old me. He chose to sit next to me, me of all people! So when Valentine's rolled around, I decided to say goodbye to painfully shy me and into his Valentine I slipped a candy heart which read, "Date me".
I remember watching him open it up as I held my breath, the envelope seemed like it took forever to open. Slowly, a smile began to creep across his face when, lightning fast, his jerkwad friend ripped the card from his hand and laughed deviously,"Kevin has a girlfriend". The class went quiet and I did my best to find composure and stay unnoticed. A whisper began to fill the room, as the jerk whispered to the person to his left who then whispered to the person to their left...a game of telephone sped towards me. I then heard the words in my ear, something about a date me candy inside the card, ha ha, how funny, pass it on. I shuffled my feet nervously, bit my lip, and pretended to pass it on. I could feel a heat rise in me, could feel tears swell up behind my eyes, could feel my body expand like it would explode in a wail of pain. I sat frozen, in agony, looking at the door. To leave the class to say, use the restroom, "cost" 200 points, something that could take weeks or months to earn. I did not have 200 points. I could not get out of jail free, but I had to. I had to let this pain and sorrow, this humiliation, this hatred of myself and my stupid stupid lovestruck decisions, out. I did it. I ran for the door and collapsed in the hallway, racked with sobs. A few minutes later, my teacher walked out to find me sitting in the hall, sniffling, trying to calm myself. She had to know, I thought, but no one can know. This was my secret. I mumbled a pathetic lie, that I had to use the restroom but was short points and that was why I was in tears. My teacher, not the consoling type, said whatever points I had would be used, and at least to tell her next time in such an emergency. I walked back into class, numb, and do not remember the rest of the day.
After this day of doom, I began to hate Valentine's day, yet still romantically held onto hope. I would see girls get extra lovey dovey cards from a cute boy, flowers, chocolates...boys would strut around with teddy bears and chocolate heart boxes. As classes no longer had everyone give Valentine's, my figurative card box went empty. Like my sad little soul. I would hear announcements over the PA system in high school, about candy grams and Valentine's dances and hold on for hope, yet knowing I would just be lonely. No one wanted me, and I sure as hell wasn't going to take the initiative again and give a boy a candy gram or ask him to a dance. I had learned from my mistake. And I had come to conclusion that Valentine's day exists to torture the less fortunate. That Saint Valentine's guy (and the Hallmark card industry) was a giant arse.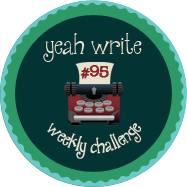 (As a happy ending, I am married, loved, and yet still harbor a resentment for Valentine's Day. But duh, I of course gorge myself on a huge heart shaped box of candy. It is Valentine's Day after all.)