Sometimes I get daring and try new foods; in some cases having no clue what I consumed until later. I picked up this habit as a toddler, being the strange little girl who preferred carrots to candy and who enjoyed gorging herself on octopus, escargot, and caviar. That is, until too many adults went 'bleck" at what I ate, with that look of utter disgust. Enough of that and I began to turn my nose at those things and preferred simpler fare. With parents who have only had Sweet & Sour Pork at a Chinese restaurant and have never had or wanted to have sauerkraut, nigiri sushi, pupusas, pierogies, etc, I basically didn't try anything more adventuresome than would be featured at Applebees.
Along came college and I figured since I was in n actual town with more than one restaurant in a ten mile radius, I'd venture out and try new things again. And thank God I did, my nomadic foodie desires brought me to such delicacies as hummus, yellow-fin nigiri, falafel, tikki masala...some of my favorite foods that make life worth living.
But, alas, sometimes you lose the gamble with new foods. For every pita and tzatziki or sag paneer out there, there are ugly hideous monsters lurking. I try and stay open minded. I TRY everything once. Natto, for example;. It is fermented soy bean paste that has a texture like rubber cement glue, and a taste like the smell of coffee grounds that you left in the pot. For a few weeks. In the summer. Then there are the foods you eat once, and once is enough, but they're not revolting. For example, horse tongue is bumpy and game-y and just a little too much for my palate, and to me, morally wrong. Crab brains were like if you put crab through the blender with a pound of salt, and something to make it very mushy. Not bad, but not good.
I hadn't been adventuresome for quite some time, and was in a very ethnically diverse area recently. I'm talking one block has Sri Lankan and Afghani food, taquerias,
shabu-shabu
, and
dim sum
. My husband and I are suckers for ethnic food (I'm the main culprit) and he was dying for
dim sum
. So we went and we waited in line. We waited and waited. We waited nearly an hour and heaven shone upon us with those char siu bao barbeque pork buns I love. And then, a twist of fate sent us on a downward spiral. No one spoke English so they'd mumble in Cantonese and point at a closed bamboo basket, trying their best to bridge the language gap and sell you things. There could be more pork buns, I thought. We got some shrimp
shu mai
which were okay. We got clay pot chicken which I had eaten once before and it was good, but this was like chicken neck and the wiggly things roosters have, pickled in a clay pot with tea and wine, served ice cold. It was another food I ate and appreciated for what it was but would not eat again. Then came the cake. Cake! Who doesn't love cake?!?!
Let me tell you, cake can be a tricky bastard when it bridges the language barrier. I should have learned this lesson in Hungary when I wanted cheesecake and got a roll with a port salut cheese. At least it was decent, but when you crave some sweet cheesy dessert with cherry topping and get a roll with port salut, you are disappointed. Heck, even cookies got in on the game in Japan with unagi pie, eel cookies which surprisingly weren't bad or too eel-y at all. But cake was a tricky mistress again today. The Chinese lady came around with her cart of food, pointing at the bamboo baskets and muttering what sounded like English. "Cake. You like? Try. Yum. Daikon. Cake. Try." She was very convincing and full of smiles. So try cake we did. Yeah. Us dumb
guai-lo
took the cake bait.
It was a terrible mistake.
I am being open minded, in that I tried it and had two bites and think it is cool the cake I ate is a special Chinese New Years comfort food and that it brings good luck. That's awesome, right? BUT and a big but at that, it is not for me. Radish cake didn't even taste like radish. It would be like calling beef stew "bay leaf broth". Sure there's bay leaf in there but its called beef stew because beef is the primary ingredient and when you eat it you think, mm, beef, not mm, bay leaf. Same goes for radish cake. Radish cake was bay leaf broth's ugly cousin. It was made of carp. You know, relative to the goldfish. A pungent mackerel-tasting very fishy fish that lives in swamps. I know carp itself is a sought after fish in many cultures and they can have it; I prefer to look at them in a tank and not on my plate. And especially not disguised as freaking CAKE. When you think cake, you think moist, crumbly, sweet, vanilla overtones. When you add radish you think, maybe it is a rice cake, like sushi with radish. A mild radish flavor could make it not too bad. But when radish cake tastes like the smell of rotten gold fish and nothing more, it messes with you.
Fish cake. I hate you, fish cake. You better be chock full of good luck because you were hard to stomach and have made me crave a steak for dinner. And I'm the weird girl who would live an entire lifetime without steak. The Chinese can have their good luck fish cake.
I'm staying away from cake for a while, but trying to bank on that good luck thing. I deserve it after that fish cake.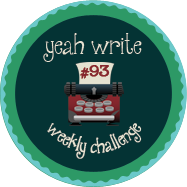 Attempting the challenge at YeahWrite. Join me? Browse, comment, love, and return!