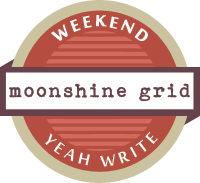 I'm the family historian, able to have tracked a few threads of our lineage back to the 1300s. But I kind of suck at knowing anything about anyone recently, these mysteries just fuel my passion for my
dorky
awesome genealogy hobby.
I have many mysteries that plague me. My parental grandpa, who passed in 1996, remains a mystery. He lived an hour's drive away, but I know little to nothing about him. I remember his Scots-Irish meets Exxes-Cockney drunken accent, and that's it. I have no clue what he looked like, no memory, and no one has a single photo or memory of his appearance.
I have a half-brother, who the entire family minus myself and my parents, haven't a clue about. Imagine, not knowing you had another cousin or grandson! And yet he grew up IN THE SAME TOWN as the vast majority of his half-family!
Then there my great grandma on my maternal side. A lot is known of her adult life; she was an eccentric (and certifiably insane) woman of high standing, lest you forget it. Her origins are clouded; there is another family we're somehow related to (let's call them the B family), and a photo of someone looking an awful lot like great-grandma, cradling her child, but the photo lists an entirely foreign name, with the surname B. From what I can surmise, she was born this long forgotten B name, to a batty mother and more normal father. Both parents re-married and she and her brother were separated. She was then raised by her grandma who married many times and changed her grand-daughters entire name.
No one alive today knows of great-grandma's young life or family history, she kept mum on that. But her one and only son had a photo album which he held in secret, and gave to my mom as he was on his death bed. The album looks circa 1910(?) in Sacramento and lacks any names or information; it's a gorgeous album full of questions and no answers; but it looks to be (and syncs up time-wise) to be of great-grandma as a small child, and her family.
I want to share it because I love old photos- I could look at old photos of my town or family all day and still be fascinated. I hope to capture your fascination too. I think just looking at photos that could be over a century old is an honor, to hold them in my hand feels special. And all I can do is wonder...I wish these photos could talk as they speak volumes, in a language too quiet for even a whisper. I think they show a fascinating life. (apologies for any shoddy images; they are a century old and I did my best not to touch them as your hand;s oils are damaging....even the air is!)
I've contacted Sacramento Police to see if they want copies of these images or can identify these men in their force. No reply, even though there is a website chock full of Sacto Police History. I've tried to i.d. these men based on their photos but cannot.
Women in pants? In 1910-ish? Blasphemy! This makes them cool women in my book...want to know the story behind these photos.
Can't find a Harriet or Anna in any lineage, even adopted, married-into, etc.
More cool police photos...look at that old car!
This makes me laugh, at the avant-garde mooning they were giving. Again..I want to know the story!
Of course, no clue who these folks are but it is just a set of photos that seems to say a lot, I just can't hear it.
Who is the African-American boy? Why have a photo of him from back then....with such racism, why would you take a photo of him and keep it? Is the dog significant?
I just like this from an artistic point of view.